The day the first tourist went to space – level 2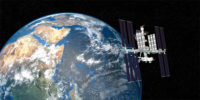 28-04-2001
People were always fascinated by the night sky full of stars. American Dennis Tito was no different. As a boy, he began to dream about his journey up there. That was one of the reasons for his studies of engineering and his work for NASA. After five years at NASA, he decided to do something new. He began to work in the investment market.
He was so successful that he had $200 million in his bank account. He still had his dream of a journey to the stars, and now he had money to realize it.
At the time, the Russian space agency had financial problems, and rich people seemed to be exactly the financial injection which the agency needed. That's why they made a deal with Tito. He paid twenty million dollars for a one-week space vacation.
He had to do a long training. He became familiar with the Soyuz spacecraft and he practiced for landing on Earth. He also improved his skills in Russian. His training was 8 months long.
On April 28, 2001, Soyuz took off from the Baikonur Cosmodrome with two astronauts and the first space tourist to the ISS. Tito stayed in space for 7 days, during which he went around the Earth 128 times. He then safely landed in Kazakhstan.
Difficult words: seem (to look like), deal (a contract), vacation (a holiday, time away from work), spacecraft (a vehicle which travels to space), ISS (the International Space Station).
What do you think about this day?
LEARN 3000 WORDS with DAYS IN LEVELS
Days in Levels is designed to teach you 3000 words in English. Please follow the instructions
below.
How to improve your English with Days in Levels: 

Test
Do the test at Test Languages.
Go to your level. Go to Level 1 if you know 1-1000 words. Go to Level 2 if you know 1000-2000 words. Go to Level 3 if you know 2000-3000 words.

Reading
Read two new articles article at Days in Levels every day.
Read one previous article too and check if you remember all new words.

Listening
Listen to the new article and read the text at the same time.
Listen to the new article without reading the text.

Writing
Answer the question under the new article and write your answer in the comments.