The day Abraham Lincoln was shot – level 1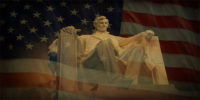 14-04-1865
Abraham Lincoln is a president in difficult times. When he is the president, there is a war in the United States. The North is against the South.
Lincoln is a leader of the North. The South wants to keep slavery. The North wants to stop slavery. The North wins the war. After that, Lincoln stops slavery in the United States.
Some people don't like this new situation. One of these people is a famous actor from Washington, DC. He works in a theater where Lincoln likes to go. This actor hates Lincoln.
On April 14, 1865, the president is sitting in the theater with his wife. People watch a comedy. The comedy is funny.
At one moment, the famous actor comes to the president. He shoots the president in the head. Then he runs out of the theater and rides away on his horse.
Lincoln's injury is very bad. He dies the next morning. People catch the actor 12 days later.
Difficult words: slavery (the system when people have slaves), hate (to dislike very much), laugh (to smile very much), ride (to go on a horse), injury (when your body is broken).
What do you think about this day?
LEARN 3000 WORDS with DAYS IN LEVELS
Days in Levels is designed to teach you 3000 words in English. Please follow the instructions
below.
How to improve your English with Days in Levels: 

Test
Do the test at Test Languages.
Go to your level. Go to Level 1 if you know 1-1000 words. Go to Level 2 if you know 1000-2000 words. Go to Level 3 if you know 2000-3000 words.

Reading
Read two new articles article at Days in Levels every day.
Read one previous article too and check if you remember all new words.

Listening
Listen to the new article and read the text at the same time.
Listen to the new article without reading the text.

Writing
Answer the question under the new article and write your answer in the comments.