The day the human DNA was mapped – level 1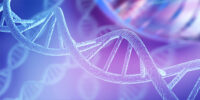 14-04-2003
In 1990, scientists begin a special project. They want to map the whole human genome. The human genome is the genetic information in a human body.
Scientists from many countries work on the project. They are, for example, from the United States, United Kingdom, Japan, France, Germany, and China.
On April 14, 2003, the scientists say that they know the human genome.
The genome has 3 billion DNA pairs.
This success of the project is important for medicine and biology.
Difficult words: map (to discover information about the structure of something), human (people's), genome (all the genes in one species), announce (to say officially), DNA (genetic information in a cell).
How has the mapping of the human genome impacted medical and biological research?
LEARN 3000 WORDS with DAYS IN LEVELS
Days in Levels is designed to teach you 3000 words in English. Please follow the instructions
below.
How to improve your English with Days in Levels: 

Test
Do the test at Test Languages.
Go to your level. Go to Level 1 if you know 1-1000 words. Go to Level 2 if you know 1000-2000 words. Go to Level 3 if you know 2000-3000 words.

Reading
Read two new articles article at Days in Levels every day.
Read one previous article too and check if you remember all new words.

Listening
Listen to the new article and read the text at the same time.
Listen to the new article without reading the text.

Writing
Answer the question under the new article and write your answer in the comments.