The day James Cook reached Australia – level 1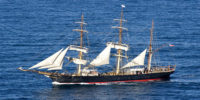 19-04-1770
It is 1768. James Cook starts a new journey. He goes on a ship. He goes to the Pacific Ocean. He wants to find a new continent there. Some people in Europe say that this new continent is very rich. James Cook wants this new continent for Britain.
First, Cook goes around South America. Then he goes to Tahiti. People in Tahiti tell him that there is no big continent nearby.
This information doesn't stop Cook. He continues his journey west. He finds New Zealand. New Zealand is only two big islands. So Cook continues west.
On April 19, 1770, he comes to Australia. He comes to the part of Australia where Sydney is now. People from his expedition find a lot of new flowers and animals in Australia. They are happy.
Then, Cook goes north around Australia. He says that now Australia is a British territory.
18 years later, Britain sends 11 ships to Australia. A lot of people on the ships are prisoners. During many years, Britain sends 160,000 prisoners to Australia. When the prisoners finish their time in prison, they stay in Australia. They get a piece of land and start a normal life there.
Difficult words: journey (a long way), continent (a very big land with sea around), expedition (a long and organized journey), territory (the land which is under control of one country), prisoner (a person in a prison).
What do you think about this day?
LEARN 3000 WORDS with DAYS IN LEVELS
Days in Levels is designed to teach you 3000 words in English. Please follow the instructions
below.
How to improve your English with Days in Levels: 

Test
Do the test at Test Languages.
Go to your level. Go to Level 1 if you know 1-1000 words. Go to Level 2 if you know 1000-2000 words. Go to Level 3 if you know 2000-3000 words.

Reading
Read two new articles article at Days in Levels every day.
Read one previous article too and check if you remember all new words.

Listening
Listen to the new article and read the text at the same time.
Listen to the new article without reading the text.

Writing
Answer the question under the new article and write your answer in the comments.