The day HIV was discovered – level 1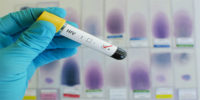 23-04-1984
In 1981, five men from Los Angeles have a strange disease. It isn't possible to help them. These men are all homosexuals. They are on drugs.
Doctors discover that people give this disease to other people during sex. The name of the disease is AIDS.
On April 23, 1984, doctors say that the reason for AIDS is one virus. The name of the virus is HIV.
Later, doctors say that HIV comes from monkeys in Africa. Not all people think that this is true. Today, people don't know exactly the origin of the disease.
32 million people die of HIV in the world.
Difficult words: disease (an illness), discover (to see something new), reason (why something happens), origin (the place in which something starts).
What do you think about this day?
LEARN 3000 WORDS with DAYS IN LEVELS
Days in Levels is designed to teach you 3000 words in English. Please follow the instructions
below.
How to improve your English with Days in Levels: 

Test
Do the test at Test Languages.
Go to your level. Go to Level 1 if you know 1-1000 words. Go to Level 2 if you know 1000-2000 words. Go to Level 3 if you know 2000-3000 words.

Reading
Read two new articles article at Days in Levels every day.
Read one previous article too and check if you remember all new words.

Listening
Listen to the new article and read the text at the same time.
Listen to the new article without reading the text.

Writing
Answer the question under the new article and write your answer in the comments.