The day the Titanic sank – level 1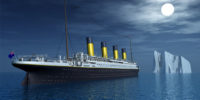 15-04-1912
It is September 1985. People go underwater in the Atlantic Ocean. The people see the Titanic again. It is at the bottom of the Atlantic Ocean. It is 73 years after the catastrophe.
In 1912, the Titanic is the biggest and the most modern ship in the world. Some people say that the ship can't sink. However, the Titanic sinks during the first trip to New York.
It is 23:39 pm on April 14, 1912. One man sees a big iceberg in front of the ship. The ship hits the iceberg. Water starts to go into the ship.
Only twenty small boats to save people are on the Titanic. Twenty small boats are not enough for all the people.
1,500 people die. It is a big catastrophe.
Difficult words: catastrophe (a very bad event), sink (go under water), iceberg (big piece of ice), enough (all what you need).
What do you think about this day?
LEARN 3000 WORDS with DAYS IN LEVELS
Days in Levels is designed to teach you 3000 words in English. Please follow the instructions
below.
How to improve your English with Days in Levels: 

Test
Do the test at Test Languages.
Go to your level. Go to Level 1 if you know 1-1000 words. Go to Level 2 if you know 1000-2000 words. Go to Level 3 if you know 2000-3000 words.

Reading
Read two new articles article at Days in Levels every day.
Read one previous article too and check if you remember all new words.

Listening
Listen to the new article and read the text at the same time.
Listen to the new article without reading the text.

Writing
Answer the question under the new article and write your answer in the comments.