The day of the Concorde crash – level 2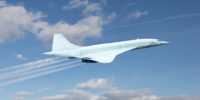 25-07-2000
Concorde was a fantastic plane. It was built in 1969. It could fly twice as fast as the speed of sound.
The plane was a symbol of luxury, elegance, and speed. It was able to fly the distance between London and New York in 3 hours. It flew 18 kilometers above the sea.
On July 25, 2000, Concorde was preparing to fly from Paris to New York. Its tire broke during the take-off. Parts of the tire hit the bottom of the plane where the fuel tank was. The tank broke, and a lot of fuel started to pour out of the plane. Then the fuel caught fire, and the plane crashed into a hotel near the airport. No one survived the tragedy.
After the crash, Concorde flights were stopped for many months. The planes were improved and their flights started again for a short time. However, the interest in flights in Concorde was no longer so great, and in October 2003, the flights were stopped forever.
Difficult words: tire (a black ring around the wheel of a car or a plane), fuel (energy for planes and cars), tank (a big container), pour (to go out of a container), improve (to make better).
What do you think about this day?
LEARN 3000 WORDS with DAYS IN LEVELS
Days in Levels is designed to teach you 3000 words in English. Please follow the instructions
below.
How to improve your English with Days in Levels: 

Test
Do the test at Test Languages.
Go to your level. Go to Level 1 if you know 1-1000 words. Go to Level 2 if you know 1000-2000 words. Go to Level 3 if you know 2000-3000 words.

Reading
Read two new articles article at Days in Levels every day.
Read one previous article too and check if you remember all new words.

Listening
Listen to the new article and read the text at the same time.
Listen to the new article without reading the text.

Writing
Answer the question under the new article and write your answer in the comments.