The day of the Concorde crash – level 1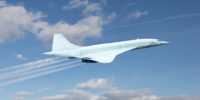 25-07-2000
Concorde is a fantastic plane. People make this plane in 1969. Concorde can fly faster than the speed of sound. The plane can go from London to New York in 3 hours. The plane flies 18 kilometers above the sea.
On July 25, 2000, Concorde is preparing to fly from Paris to New York. There is an accident during the start. There is a big fire. The plane crashes into a hotel near the airport. All the people die.
After the accident, people don't want to fly in Concorde. It is a problem. In 2003, Concorde must stop its service.
Difficult words: speed (information which shows how fast something is), above (over), during (at some point in an activity), crash (to have a bad accident), service (work).
What do you think about this day?
LEARN 3000 WORDS with DAYS IN LEVELS
Days in Levels is designed to teach you 3000 words in English. Please follow the instructions
below.
How to improve your English with Days in Levels: 

Test
Do the test at Test Languages.
Go to your level. Go to Level 1 if you know 1-1000 words. Go to Level 2 if you know 1000-2000 words. Go to Level 3 if you know 2000-3000 words.

Reading
Read two new articles article at Days in Levels every day.
Read one previous article too and check if you remember all new words.

Listening
Listen to the new article and read the text at the same time.
Listen to the new article without reading the text.

Writing
Answer the question under the new article and write your answer in the comments.