The day when the chess Match of the Century began – level 3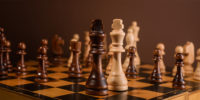 11-07-1972
The 1972 World Chess Championship was a match between challenger Bobby Fischer of the United States and defending champion Boris Spassky of the Soviet Union, and it took place in Reykjavik, Iceland.
Fischer had won 20 consecutive games, nearly all of which were against top grandmasters. However, Fischer had never won a game against Spassky. For some time, it was doubtful that the match would be played at all. Fischer didn´t arrive for the opening ceremony and his behavior was full of contradictions. He finally flew to Iceland and agreed to play after a two-day postponement of the match and a surprise doubling of the prize fund by a British investment banker.
The first game started on July 11, 1972, and Fischer resigned. After his loss, Fischer refused to appear for the second game, and he demanded that the organizers removed all cameras. Sportingly, Spassky agreed to play the third game in a small room backstage, out of sight of spectators. This concession was a psychological mistake by Spassky, and Fischer ended 24 years of Soviet domination of the World Championship.
Difficult words: challenger (a person who tries to win a competition and achieve a position), defending champion (the person who currently holds the title of a champion), resign (to give up), concession (something that is done to end a conflict or in response to demands).
What do you think about this day?
LEARN 3000 WORDS with DAYS IN LEVELS
Days in Levels is designed to teach you 3000 words in English. Please follow the instructions
below.
How to improve your English with Days in Levels: 

Test
Do the test at Test Languages.
Go to your level. Go to Level 1 if you know 1-1000 words. Go to Level 2 if you know 1000-2000 words. Go to Level 3 if you know 2000-3000 words.

Reading
Read two new articles article at Days in Levels every day.
Read one previous article too and check if you remember all new words.

Listening
Listen to the new article and read the text at the same time.
Listen to the new article without reading the text.

Writing
Answer the question under the new article and write your answer in the comments.