The day when the chess Match of the Century began – level 2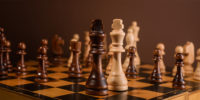 11-07-1972
Bobby Fischer was an American chess player who won the world title and he defeated almost all world´s top players. He never won against Boris Spassky who came from the Soviet Union.
In June 1972, there was a match between Fischer and Spassky and it took place in Reykjavik, Iceland. Experts called the match the Match of the Century. There were problems from the start. It was not clear if Fischer would play because he did not come to the opening ceremony. Organizers had to postpone the start of the match.
The first game started on July 11, 1972, and Fischer lost. He did not want to start the second game. He said that he could not think well because of all the TV cameras.
Spassky agreed to play another game in a small room without TV cameras. It was a mistake that helped Fischer wins the match. After 24 years, the Soviet Union lost the world title.
Difficult words: defeat (to win a game over somebody else), opening ceremony (a special event at the start of a match or opening a building), postpone (to make something take place at a later time).
What do you think about this day?
LEARN 3000 WORDS with DAYS IN LEVELS
Days in Levels is designed to teach you 3000 words in English. Please follow the instructions
below.
How to improve your English with Days in Levels: 

Test
Do the test at Test Languages.
Go to your level. Go to Level 1 if you know 1-1000 words. Go to Level 2 if you know 1000-2000 words. Go to Level 3 if you know 2000-3000 words.

Reading
Read two new articles article at Days in Levels every day.
Read one previous article too and check if you remember all new words.

Listening
Listen to the new article and read the text at the same time.
Listen to the new article without reading the text.

Writing
Answer the question under the new article and write your answer in the comments.