The day a signal came from space – level 3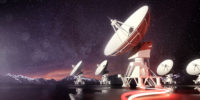 15-08-1977
On August 15, 1977, American astronomer Jerry Ehman carried out an inspection of radio telescope records in Ohio. On a long piece of paper, he spotted a series of letters and numbers that exactly matched scientists' ideas about what an alien signal should look like.
The signal was thirty times stronger than the normal background of the radio noise of the universe, and it lasted 72 seconds. Scientists concluded from the nature of the signal that it must have come from outer space.
What or who sent this signal? It was unclear. Other large and powerful telescopes later searched for the source of the signal that came from the constellation Sagittarius. However, no one was able to record the same signal again. The signal from 1977, therefore, remains an unexplained mystery.
Difficult words: carry out (to do), alien (from another world), conclude (to say what is true after thinking), constellation (a group of stars that has a name), Sagittarius (one of the constellations), remain (to stay).
What do you think the original source of the mysterious signal from 1977 could have been?
LEARN 3000 WORDS with DAYS IN LEVELS
Days in Levels is designed to teach you 3000 words in English. Please follow the instructions
below.
How to improve your English with Days in Levels: 

Test
Do the test at Test Languages.
Go to your level. Go to Level 1 if you know 1-1000 words. Go to Level 2 if you know 1000-2000 words. Go to Level 3 if you know 2000-3000 words.

Reading
Read two new articles article at Days in Levels every day.
Read one previous article too and check if you remember all new words.

Listening
Listen to the new article and read the text at the same time.
Listen to the new article without reading the text.

Writing
Answer the question under the new article and write your answer in the comments.