The day a signal came from space – level 2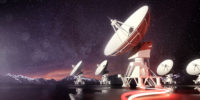 15-08-1977
On August 15, 1977, American astronomer Jerry Ehman looked at the information from a telescope in Ohio. He saw something fantastic. He saw a signal which looked like a signal from space.
The signal was 72 seconds long, and it was thirty times stronger than the normal sound of space. Scientists believed very strongly that the signal was really from space.
What or who sent this signal? It was unclear. Other big and powerful telescopes later searched for the source of the signal, but nobody recorded the same signal again.
The signal from 1977 is still an unexplained mystery.
Difficult words: look like (to be seen like), powerful (very strong), source (the beginning from which something goes), mystery (a moment which people can't explain).
What could have caused the extraordinary signal seen by Jerry Ehman in 1977?
LEARN 3000 WORDS with DAYS IN LEVELS
Days in Levels is designed to teach you 3000 words in English. Please follow the instructions
below.
How to improve your English with Days in Levels: 

Test
Do the test at Test Languages.
Go to your level. Go to Level 1 if you know 1-1000 words. Go to Level 2 if you know 1000-2000 words. Go to Level 3 if you know 2000-3000 words.

Reading
Read two new articles article at Days in Levels every day.
Read one previous article too and check if you remember all new words.

Listening
Listen to the new article and read the text at the same time.
Listen to the new article without reading the text.

Writing
Answer the question under the new article and write your answer in the comments.