The day a signal came from space – level 1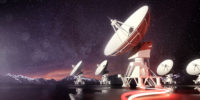 15-08-1977
It is August 15, 1977. An American astronomer looks at the information from a telescope in Ohio. He sees something fantastic. He sees a signal from space.
The signal is 72 seconds long. The signal is very strong.
People are happy. They don't know who the author of the signal is. People want to find this signal again. People use big and strong telescopes. They never find the signal again.
The signal from 1977 is a mystery.
Difficult words: signal (a sign, a sound), space (planets, stars, and galaxies), author (somebody who starts something), find (to see what you are looking for), mystery (a moment which people don't understand).
What could the origin of this mysterious signal possibly be?
LEARN 3000 WORDS with DAYS IN LEVELS
Days in Levels is designed to teach you 3000 words in English. Please follow the instructions
below.
How to improve your English with Days in Levels: 

Test
Do the test at Test Languages.
Go to your level. Go to Level 1 if you know 1-1000 words. Go to Level 2 if you know 1000-2000 words. Go to Level 3 if you know 2000-3000 words.

Reading
Read two new articles article at Days in Levels every day.
Read one previous article too and check if you remember all new words.

Listening
Listen to the new article and read the text at the same time.
Listen to the new article without reading the text.

Writing
Answer the question under the new article and write your answer in the comments.