The day the Klondike Gold Rush started – level 1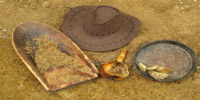 16-08-1896
It is 1896. People are looking for gold around the Klondike River in Canada. For some time, people don't find a lot of gold. Everything changes on August 16. Four miners find a lot of gold.
After this moment, other local miners come to the place where the gold is. They also find a lot of gold.
A year later, the first rich miners from the Klondike go to San Francisco, California. When people hear about the gold, they want to go to the Klondike, too. A gold rush starts.
100,000 people leave their jobs and their families. They go to the Klondike. They want to find gold, too. They want to be rich fast.
Life isn't easy in the Klondike. People must work hard. The weather is very cold.
In the end, only some people find a lot of gold. Many people return home with nothing. Some people never return.
Difficult words: find (to see what you are looking for), miner (a person who looks for gold), gold rush (a moment when a lot of people want to find gold in one place), leave (to go away from), return (to go back).
What challenges did the people of the Klondike gold rush face?
LEARN 3000 WORDS with DAYS IN LEVELS
Days in Levels is designed to teach you 3000 words in English. Please follow the instructions
below.
How to improve your English with Days in Levels: 

Test
Do the test at Test Languages.
Go to your level. Go to Level 1 if you know 1-1000 words. Go to Level 2 if you know 1000-2000 words. Go to Level 3 if you know 2000-3000 words.

Reading
Read two new articles article at Days in Levels every day.
Read one previous article too and check if you remember all new words.

Listening
Listen to the new article and read the text at the same time.
Listen to the new article without reading the text.

Writing
Answer the question under the new article and write your answer in the comments.