The day the Hubble Space Telescope was taken to space – level 2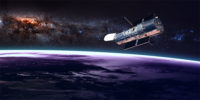 24-04-1990
On April 24, 1990, the Hubble Space Telescope was taken to space. The astronauts put it into Earth's orbit at a height of 600 kilometers. The telescope was designed to take beautiful pictures of stars, planets, and galaxies.
A month later there was a shock. The first test pictures from the telescope were blurred. The quality of the pictures was very bad. The scientists realized that the telescope mirror was done incorrectly. The error was extremely small, but it had a big effect.
The scientists found a way to solve the problem. They decided to put special instruments on the telescope. In December 1993, astronauts put the instruments on the telescope and it began to function correctly.
The telescope was located outside the Earth's atmosphere, so the pictures were very sharp. Many of them were also very beautiful.
Difficult words: orbit (a way around the Earth in space), blurred (not very clear), realize (to understand), solve (to find a solution).
What advancements were made to the Hubble Space Telescope in order to correct the error with its mirror?
LEARN 3000 WORDS with DAYS IN LEVELS
Days in Levels is designed to teach you 3000 words in English. Please follow the instructions
below.
How to improve your English with Days in Levels: 

Test
Do the test at Test Languages.
Go to your level. Go to Level 1 if you know 1-1000 words. Go to Level 2 if you know 1000-2000 words. Go to Level 3 if you know 2000-3000 words.

Reading
Read two new articles article at Days in Levels every day.
Read one previous article too and check if you remember all new words.

Listening
Listen to the new article and read the text at the same time.
Listen to the new article without reading the text.

Writing
Answer the question under the new article and write your answer in the comments.