The day Israeli people in Uganda were freed – level 3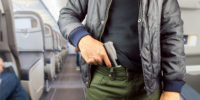 04-07-1976
On June 27, 1976, a plane flew from Athens to Paris. There were 248 passengers on board. Many of them were Israeli. However, there were also four hijackers on board. They took control of the plane shortly after taking off. They forced the pilots to change direction to Libya and landed there to refuel.
From Libya, the plane headed for Uganda where a military dictator ruled. After landing in Uganda, the hijackers put the passengers into a big hall. The hijackers demanded the release of 53 pro-Palestinian fighters from prison.
After some days, the hijackers gradually released 148 non-Israeli hostages who were flown to Paris, but more than a hundred hostages remained in Uganda.
Israel tried to resolve the situation through diplomacy. However, this attempt failed and the decision was made to try to free the Israeli hostages by military action.
Israel sent 4 giant military planes to Uganda. The operation took place at night. At the start, the first plane landed at Uganda airport. 3 big cars drove out of the plane. 29 Israeli soldiers were crowded in these cars. They headed for the hall where the hostages were kept.
A gunfight started and the hijackers were killed. Meanwhile, the remaining 3 planes with 200 Israeli soldiers landed. The airport was protected by Ugandan soldiers, but they had no chance against so many Israeli soldiers. The hostages were released and boarded the planes which then flew in the direction of Israel. The entire operation lasted 53 minutes.
Difficult words: hijacker (a person who controls a plane by force), refuel (to fill with fuel before continuing), rule (to control a country), demand (to ask for), hostage (a person who is kept as a prisoner by an enemy), gunfight (a fight when people use guns), entire (whole).
What challenges did the Israeli soldiers face when carrying out this operation?
LEARN 3000 WORDS with DAYS IN LEVELS
Days in Levels is designed to teach you 3000 words in English. Please follow the instructions
below.
How to improve your English with Days in Levels: 

Test
Do the test at Test Languages.
Go to your level. Go to Level 1 if you know 1-1000 words. Go to Level 2 if you know 1000-2000 words. Go to Level 3 if you know 2000-3000 words.

Reading
Read two new articles article at Days in Levels every day.
Read one previous article too and check if you remember all new words.

Listening
Listen to the new article and read the text at the same time.
Listen to the new article without reading the text.

Writing
Answer the question under the new article and write your answer in the comments.