The day Alcatraz was closed – level 1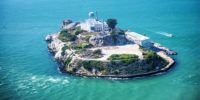 21-03-1963
In 1934, Alcatraz prison is opened in the United States. It is on an island near San Francisco. This prison is for very bad criminals. It is difficult to escape from the prison because the water around it is very cold.
During all the time, 36 men try to escape. The police catch all of them, or they die.
Only three men escape and the police never find them.
After 29 years, the prison is closed on March 21, 1963. This is because it is very expensive. Today, the prison is a museum.
Difficult words: criminal (a person who is in prison), escape (to run away), find (to see what you look for).
What is the first year that Alcatraz prison was open to the public as a museum?
LEARN 3000 WORDS with DAYS IN LEVELS
Days in Levels is designed to teach you 3000 words in English. Please follow the instructions
below.
How to improve your English with Days in Levels: 

Test
Do the test at Test Languages.
Go to your level. Go to Level 1 if you know 1-1000 words. Go to Level 2 if you know 1000-2000 words. Go to Level 3 if you know 2000-3000 words.

Reading
Read two new articles article at Days in Levels every day.
Read one previous article too and check if you remember all new words.

Listening
Listen to the new article and read the text at the same time.
Listen to the new article without reading the text.

Writing
Answer the question under the new article and write your answer in the comments.