The day young football players became trapped in a cave – level 3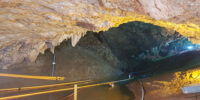 23-06-2018
On June 23, 2018, 12 young football players and their coach became trapped in a cave in Thailand due to flooding caused by heavy rain.
Rescue efforts began immediately after they were reported missing, but it took nine days for rescuers to locate the group, as they were deep in the cave and difficult to reach.
The rescue mission involved hundreds of rescuers from all around the world and lasted for 18 days.
The rescue involved a risky operation where divers had to navigate through narrow, flooded passages to reach the boys and bring them out one by one.
The boys and their coach were finally successfully rescued and all of them survived.
Difficult words: involve (to be part of something), last (to take time), navigate (to lead the way through some area), passage (a narrow path to something).
What lessons can we learn from this story about the importance of international cooperation in times of crisis?
LEARN 3000 WORDS with DAYS IN LEVELS
Days in Levels is designed to teach you 3000 words in English. Please follow the instructions
below.
How to improve your English with Days in Levels: 

Test
Do the test at Test Languages.
Go to your level. Go to Level 1 if you know 1-1000 words. Go to Level 2 if you know 1000-2000 words. Go to Level 3 if you know 2000-3000 words.

Reading
Read two new articles article at Days in Levels every day.
Read one previous article too and check if you remember all new words.

Listening
Listen to the new article and read the text at the same time.
Listen to the new article without reading the text.

Writing
Answer the question under the new article and write your answer in the comments.