The day Winston Churchill became the prime minister – level 3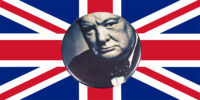 10-05-1940
Winston Churchill became Prime Minister of the United Kingdom on May 10, 1940.
He took over the role during a critical time in British history, as the country was at war with Nazi Germany and facing the potential invasion.
Churchill's appointment was not immediately popular among some members of his own party, who felt that he was too unpredictable and impulsive to lead the country effectively. However, he was ultimately chosen due to his experience and reputation as a strong leader.
During his time as Prime Minister, Churchill delivered many famous speeches which inspired people to be strong during those difficult times.
Difficult words: face (to be in front of something), invasion (a moment when an enemy army enters your country), ultimately (eventually).
What notable speeches did Winston Churchill deliver as Prime Minister of the United Kingdom?
LEARN 3000 WORDS with DAYS IN LEVELS
Days in Levels is designed to teach you 3000 words in English. Please follow the instructions
below.
How to improve your English with Days in Levels: 

Test
Do the test at Test Languages.
Go to your level. Go to Level 1 if you know 1-1000 words. Go to Level 2 if you know 1000-2000 words. Go to Level 3 if you know 2000-3000 words.

Reading
Read two new articles article at Days in Levels every day.
Read one previous article too and check if you remember all new words.

Listening
Listen to the new article and read the text at the same time.
Listen to the new article without reading the text.

Writing
Answer the question under the new article and write your answer in the comments.