The day the Statue of Liberty was unveiled – level 3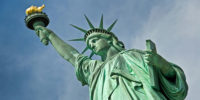 28-10-1886
The Statue of Liberty is one of New York's greatest symbols. It's 46 meters high, and it's visited by 4 million tourists every year. It's a symbol of friendship and help, as France provided it to the Americans during the War of Independence.
The story of the Statue of Liberty began in 1865 when a French professor held a dinner meeting for his friends. Among other things, they talked about the anniversary of the declaration of American independence. It was the French who fought on the American side against the British rule.
The professor suggested to celebrate the victory by giving the Americans a great monument. A young sculptor Frédéric Bartholdi was also at the dinner. At that time, he was dreaming of creating an important statue.
He drew the figure of an ancient woman with a broken chain at her feet as a symbol of victory and freedom. The woman held a torch in her right hand, and in her left hand, she held a plate with the date of July 4, 1776, the day of the Declaration of Independence.
In June 1884, the Statue of Liberty was completed in Paris. Now it just had to be sent to New York. Workers dismantled the statue, put it into huge boxes and shipped it to New York.
On October 28, 1886, Frédéric Bartholdi unveiled the Statue of Liberty in the presence of the American president and thousands of other people.
Difficult words: declaration (an important official statement), rule (control), sculptor (an artist who makes statues), ancient (very old), torch (a long piece of wood with fire), dismantle (to separate into small pieces), ship (to send a product by ship), unveil (to show for the first time).
What did the broken chain at the feet of the Statue of Liberty represent?
LEARN 3000 WORDS with DAYS IN LEVELS
Days in Levels is designed to teach you 3000 words in English. Please follow the instructions
below.
How to improve your English with Days in Levels: 

Test
Do the test at Test Languages.
Go to your level. Go to Level 1 if you know 1-1000 words. Go to Level 2 if you know 1000-2000 words. Go to Level 3 if you know 2000-3000 words.

Reading
Read two new articles article at Days in Levels every day.
Read one previous article too and check if you remember all new words.

Listening
Listen to the new article and read the text at the same time.
Listen to the new article without reading the text.

Writing
Answer the question under the new article and write your answer in the comments.