The day the longest bridge was opened – level 3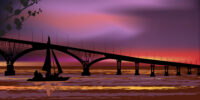 30-06-2011
The Danyang-Kunshan Grand Bridge, located in China, was officially opened to the public on June 30, 2011. It is a high-speed railway bridge that spans a distance of 164 kilometers. It is also the longest bridge in the world.
The bridge was constructed in just four years, and it involved over 10,000 workers. It was designed to withstand earthquakes and strong winds.
The bridge has helped to shorten travel time between Beijing and Shanghai from 10 hours to just five hours.
Difficult words: span (to go from one side to the other), involve (to be part of something), withstand (to be able to stay unharmed during difficult times).
What other features of the Danyang-Kunshan Grand Bridge make it a landmark structure?
LEARN 3000 WORDS with DAYS IN LEVELS
Days in Levels is designed to teach you 3000 words in English. Please follow the instructions
below.
How to improve your English with Days in Levels: 

Test
Do the test at Test Languages.
Go to your level. Go to Level 1 if you know 1-1000 words. Go to Level 2 if you know 1000-2000 words. Go to Level 3 if you know 2000-3000 words.

Reading
Read two new articles article at Days in Levels every day.
Read one previous article too and check if you remember all new words.

Listening
Listen to the new article and read the text at the same time.
Listen to the new article without reading the text.

Writing
Answer the question under the new article and write your answer in the comments.