The day the first human heart was transplanted – level 1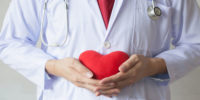 03-12-1967
There is a bad car accident. It is in Cape Town. It is on December 2, 1967. A car hits a young woman and her mother. The mother dies. Her daughter lives. However, she has serious problems with her head. Doctors take her to the hospital.
When the young woman comes to the hospital, her heart is beating. Yet she is already dead. This is because her brain isn't working. Doctors can't help her.
When her father comes to the hospital, doctors tell him that they can't save his daughter. They say her heart can help another person. The father thinks about it. Then he agrees with the transplant. The person who needs the transplant is a sick 55-year-old man. The transplant is his only chance to live.
A team of thirty doctors and nurses starts the operations. The leader of the team is Doctor Christiaan Barnard. The operation is successful. After the operation, the man wakes up. He speaks with his wife and reporters. However, the man dies only eighteen days after the transplant.
The operation is a really big moment in medical history. From that moment, people know that it is possible to transplant the heart.
Today, people live longer after these transplants. 85% of people live one year after the operation. 69% of people live five years after the operation.
Difficult words: accident (the moment when a bad thing suddenly happens), beat (to move and send blood to the body through the heart), brain (a big body part in your head which people use for thinking), save (to help somebody live), transplant (to move), successful (very good).
What do you think about this day?
LEARN 3000 WORDS with DAYS IN LEVELS
Days in Levels is designed to teach you 3000 words in English. Please follow the instructions
below.
How to improve your English with Days in Levels: 

Test
Do the test at Test Languages.
Go to your level. Go to Level 1 if you know 1-1000 words. Go to Level 2 if you know 1000-2000 words. Go to Level 3 if you know 2000-3000 words.

Reading
Read two new articles article at Days in Levels every day.
Read one previous article too and check if you remember all new words.

Listening
Listen to the new article and read the text at the same time.
Listen to the new article without reading the text.

Writing
Answer the question under the new article and write your answer in the comments.