The day the Eiffel Tower opened – level 1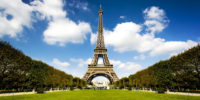 06-05-1889
It is 1886. Paris needs a new big structure. People prepare 100 designs. One design is very special. It is a tower. The tower is 324 meters high. The design is by Alexandre Gustave Eiffel. His design is the best.
250 workers build the tower. They work 12 hours a day. When they are at 200 meters, they stop the work. They are not happy. They want to work only for 9 hours. They also want more money. Eiffel changes the working hours. He also gives them more money.
On May 6, 1889, the Eiffel Tower opens. People can visit the tower for 5 francs. Many people want to visit the tower.
Difficult words: competition (a situation when people try to be better than the others), strike (a situation when people stop the work because they want more money), demand (to ask for something strongly), public (normal people).
What impact did the completion of the Eiffel Tower have on tourism in Paris?
LEARN 3000 WORDS with DAYS IN LEVELS
Days in Levels is designed to teach you 3000 words in English. Please follow the instructions
below.
How to improve your English with Days in Levels: 

Test
Do the test at Test Languages.
Go to your level. Go to Level 1 if you know 1-1000 words. Go to Level 2 if you know 1000-2000 words. Go to Level 3 if you know 2000-3000 words.

Reading
Read two new articles article at Days in Levels every day.
Read one previous article too and check if you remember all new words.

Listening
Listen to the new article and read the text at the same time.
Listen to the new article without reading the text.

Writing
Answer the question under the new article and write your answer in the comments.