The day the car was faster than the speed of sound – level 3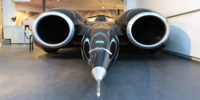 15-10-1997
People have always been fascinated by speed. Technological progress at the turn of the 19th and 20th centuries allow man to fully enjoy this phenomenon. Attempts at car speed records date back to this time.
The first registered record was set in 1898 when the driver reaches a speed of 63 km/h.
During the early decades of the 20th century, cars are going faster and faster. In 1929, the speed of 372 km/h is achieved.
In 1965, when the record cars no longer resemble regular cars, American Craig Breedlove moves the record to 966 km/h. At that moment, people are waiting for only one thing: who will overcome the speed of sound?
On October 15, 1997, pilot Andy Green sits in a vehicle weighing 10 tons, with two jet engines, and consuming 18 liters of fuel per second. He is gaining speed and everyone is waiting for the boom, which announces the entry into supersonic speed. Then the boom comes. Everybody is happy. He reaches a speed of 1228 km/h.
Difficult words: the turn of (at the time when one century begins), resemble (to be similar to), fuel (a substance such as petrol or diesel), announce (to give information), supersonic (faster than sound).
What technological or design innovations were necessary to make it possible to break the sound barrier?
LEARN 3000 WORDS with DAYS IN LEVELS
Days in Levels is designed to teach you 3000 words in English. Please follow the instructions
below.
How to improve your English with Days in Levels: 

Test
Do the test at Test Languages.
Go to your level. Go to Level 1 if you know 1-1000 words. Go to Level 2 if you know 1000-2000 words. Go to Level 3 if you know 2000-3000 words.

Reading
Read two new articles article at Days in Levels every day.
Read one previous article too and check if you remember all new words.

Listening
Listen to the new article and read the text at the same time.
Listen to the new article without reading the text.

Writing
Answer the question under the new article and write your answer in the comments.