The day the Berlin Wall fell – level 2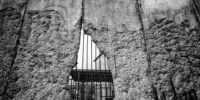 09-11-1989
On August 13, 1961, East German police start to put wire between the eastern part and the western part of Berlin. They also stop tram and metro connections. They cut telephone lines.
The reason for this activity is simple. The East German government wants to stop East Germans from going to West Germany. 3.5 million people already left since the division of Germany. It's about 20% of the East German population.
In a few weeks, the wire is replaced by a wall. The wall is guarded by 7,000 soldiers. Now, people can't easily travel between two parts of Berlin. The wall is 155 kilometers long.
The Berlin Wall becomes a symbol of the Cold War. It divides one of the largest cities in Europe. It divides families and friends.
28 long years after the construction of the Berlin Wall, the situation in the Soviet Union is changing. This also affects East Germany.
On November 9, 1989, the borders are open. Thousands of Berliners from both parts of Berlin meet at the famous Brandenburg Gate. They are happy. Families and friends are finally able to live in one united city.
Difficult words: wire (metal in the form of a line), since (from one moment), divide (to break into smaller pieces), border (the official line between two areas), united (put together into one area).
What was the impact of the Berlin Wall on East German families and friendships?
LEARN 3000 WORDS with DAYS IN LEVELS
Days in Levels is designed to teach you 3000 words in English. Please follow the instructions
below.
How to improve your English with Days in Levels: 

Test
Do the test at Test Languages.
Go to your level. Go to Level 1 if you know 1-1000 words. Go to Level 2 if you know 1000-2000 words. Go to Level 3 if you know 2000-3000 words.

Reading
Read two new articles article at Days in Levels every day.
Read one previous article too and check if you remember all new words.

Listening
Listen to the new article and read the text at the same time.
Listen to the new article without reading the text.

Writing
Answer the question under the new article and write your answer in the comments.