The day of the terrorist attacks on the US – level 2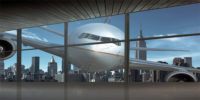 11-09-2001
On September 11, 2001, 19 terrorists took control of four planes and they made one of the worst attacks in history.
The first plane crashed into one of the towers of the World Trade Center in Manhattan, New York, at 8:46 a.m. The building started to burn, and hundreds of people, who just came to work, tried to get out. 16 minutes later, another plane crashed into the neighboring tower. Hundreds of millions of people watched the two burning towers collapse less than two hours after the attack.
The third plane crashed into a government building and the fourth plane crashed into fields in Pennsylvania. Many people on board the four planes called for help and they wanted to stop the terrorists. The terrorists used knives and other weapons which they managed to get on board through the airport security checks.
Nearly 3,000 people died in the attacks, and airports in many countries worldwide improved their security checks to make sure that similar attacks could not happen again.
Difficult words: neighboring (a building or thing which is next to another one), security check (when a security officer searches somebody's bag or pockets to see if he has something dangerous), improve (to make something better).
What measures have been taken since 9/11 to prevent similar attacks taking place in the future?
LEARN 3000 WORDS with DAYS IN LEVELS
Days in Levels is designed to teach you 3000 words in English. Please follow the instructions
below.
How to improve your English with Days in Levels: 

Test
Do the test at Test Languages.
Go to your level. Go to Level 1 if you know 1-1000 words. Go to Level 2 if you know 1000-2000 words. Go to Level 3 if you know 2000-3000 words.

Reading
Read two new articles article at Days in Levels every day.
Read one previous article too and check if you remember all new words.

Listening
Listen to the new article and read the text at the same time.
Listen to the new article without reading the text.

Writing
Answer the question under the new article and write your answer in the comments.