The day of the Smolensk air disaster – level 3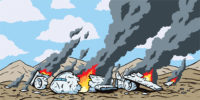 10-04-2010
On April 10, 2010, a Polish government plane headed to Russia for a memorial ceremony. They flew to honor the memory of Polish citizens who died there during World War II.
There were 96 people on board. Most of them were the elite of the Polish nation. President Lech Kaczynski and his wife were there. There were also top army officers on board the plane and the most significant representatives of the parliament.
The plane headed for a former military airport, but the airport was obsolete. It was not suitable for landing a large plane.
There was thick fog at the airport, so the captain was given the opportunity to land at another airport. However, some army officers on board the plane didn't like it and pushed the captain into landing the plane. He eventually tried to do so, even though he didn't get permission to land from the control tower.
Unfortunately, the landing didn't end up well. The plane came into contact with the upper branches of the trees and then crashed. Nobody on board survived. It was a national disaster for Poland.
Difficult words: memorial (done to remember somebody who died), elite (the top people), obsolete (old and not very good), eventually (at the end), even though (used to emphasize that it is true although it shouldn't be happening).
What do you think about this day?
LEARN 3000 WORDS with DAYS IN LEVELS
Days in Levels is designed to teach you 3000 words in English. Please follow the instructions
below.
How to improve your English with Days in Levels: 

Test
Do the test at Test Languages.
Go to your level. Go to Level 1 if you know 1-1000 words. Go to Level 2 if you know 1000-2000 words. Go to Level 3 if you know 2000-3000 words.

Reading
Read two new articles article at Days in Levels every day.
Read one previous article too and check if you remember all new words.

Listening
Listen to the new article and read the text at the same time.
Listen to the new article without reading the text.

Writing
Answer the question under the new article and write your answer in the comments.