The day of the Hindenburg disaster – level 1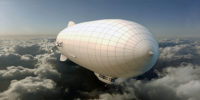 06-05-1937
The Hindenburg is an airship. She is from Germany. People travel with her from Europe to America. The airship is 248 meters long. She is very big.
In 1936, she makes 17 journeys to America. Everything is without problems.
On May 3, 1937, the airship goes from Germany to the United States. There are 97 people onboard. There is a strong wind. The airship is 12 hours late. There are no other problems.
On May 6, 1937, the airship is at the end of her journey in America. The ship is near the ground. At one moment, people see a big fire on the airship. The airship is destroyed, but 62 people survive the fire.
After the fire, traveling by big airship stops.
Difficult words: airship (a big machine which can fly), journey (a way), onboard (on an airship), destroyed (fully broken).
What factors led to the decision to end airship travel after the Hindenburg disaster?
LEARN 3000 WORDS with DAYS IN LEVELS
Days in Levels is designed to teach you 3000 words in English. Please follow the instructions
below.
How to improve your English with Days in Levels: 

Test
Do the test at Test Languages.
Go to your level. Go to Level 1 if you know 1-1000 words. Go to Level 2 if you know 1000-2000 words. Go to Level 3 if you know 2000-3000 words.

Reading
Read two new articles article at Days in Levels every day.
Read one previous article too and check if you remember all new words.

Listening
Listen to the new article and read the text at the same time.
Listen to the new article without reading the text.

Writing
Answer the question under the new article and write your answer in the comments.