The day of the first woman in space – level 1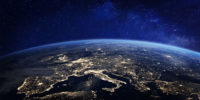 16-06-1963
It is 1963. The Soviets want to show the world who is the best. They want to send the first woman to space.
There are 400 candidates. Five best women start the training. The training is very hard. In the end, the Soviets choose Valentina Tereshkova.
It is June 16, 1963. Tereshkova is at a place called the Baikonur Cosmodrome. She goes to space. Valentina Tereshkova is the first woman in space. She travels around the Earth 48 times. She spends 2 days and 22 hours in space.
On June 19, she goes down. She stops in Kazakhstan. It is a big success for the Soviets.
Difficult words: Soviet (a person in the Soviet Union), space (the area outside the Earth), times (how often something happens), success (when you get what you want).
What did Valentina Tereshkova accomplish in her 48 orbits around the Earth?
LEARN 3000 WORDS with DAYS IN LEVELS
Days in Levels is designed to teach you 3000 words in English. Please follow the instructions
below.
How to improve your English with Days in Levels: 

Test
Do the test at Test Languages.
Go to your level. Go to Level 1 if you know 1-1000 words. Go to Level 2 if you know 1000-2000 words. Go to Level 3 if you know 2000-3000 words.

Reading
Read two new articles article at Days in Levels every day.
Read one previous article too and check if you remember all new words.

Listening
Listen to the new article and read the text at the same time.
Listen to the new article without reading the text.

Writing
Answer the question under the new article and write your answer in the comments.