The day of the first solo balloon flight around the world – level 1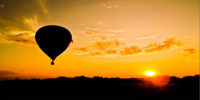 02-07-2002
Steve Fossett wants to fly around the world. He wants to fly with a balloon. He wants to fly nonstop. His first attempt is in 1996. He isn't successful. He tries again and again.
In 2002, it is his attempt number 6. He starts his journey in Australia. He flies around the world. 15 days later, he ends his journey in Australia. He is successful. It is on July 2, 2002.
Difficult words: attempt (a moment when you try to do something), successful (when you get what you want), journey (a way).
What do you think about this day?
LEARN 3000 WORDS with DAYS IN LEVELS
Days in Levels is designed to teach you 3000 words in English. Please follow the instructions
below.
How to improve your English with Days in Levels: 

Test
Do the test at Test Languages.
Go to your level. Go to Level 1 if you know 1-1000 words. Go to Level 2 if you know 1000-2000 words. Go to Level 3 if you know 2000-3000 words.

Reading
Read two new articles article at Days in Levels every day.
Read one previous article too and check if you remember all new words.

Listening
Listen to the new article and read the text at the same time.
Listen to the new article without reading the text.

Writing
Answer the question under the new article and write your answer in the comments.