The day of the first nonstop flight across the Atlantic – level 2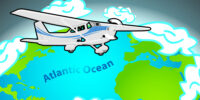 20-05-1927
In 1919, a New York businessman announced a competition. He promised to pay $25,000 to the first person who could fly nonstop from New York to Paris. However, it was such a difficult thing that nobody tried it for the next five years. In 1924, the first people tried to do it, but all of them failed.
Then 25-year-old Charles Lindbergh came. His job was to fly a mail plane. He loved flying and he wasn't afraid to take risks. He had to borrow $15,000 at the bank to build a plane that could fly such a long distance.
He wanted to build a very light plane and he decided to fly alone. His plane had only one engine and he threw away everything which he didn't need. For example, he didn't take his parachute or a radio. He wanted to use only the sky for navigation.
On May 20, 1927, he started his journey across the Atlantic. He had many problems on the way. He flew in fog for many hours. He had to fly above a storm. After 24 hours of flying, he was very tired and he started to sleep for short moments.
However, he managed to overcome all the difficulties. After 33.5 hours, he landed at an airport in Paris where 150,000 happy people were waiting for him.
Difficult words: announce (to say officially), fail (not to be successful), mail (letters and packages which people send by post), engine (a motor), navigation (what you do when you want to find the correct way), overcome (to be stronger than something which wanted to stop you).
What challenges did Lindbergh have to face during his flight across the Atlantic?
LEARN 3000 WORDS with DAYS IN LEVELS
Days in Levels is designed to teach you 3000 words in English. Please follow the instructions
below.
How to improve your English with Days in Levels: 

Test
Do the test at Test Languages.
Go to your level. Go to Level 1 if you know 1-1000 words. Go to Level 2 if you know 1000-2000 words. Go to Level 3 if you know 2000-3000 words.

Reading
Read two new articles article at Days in Levels every day.
Read one previous article too and check if you remember all new words.

Listening
Listen to the new article and read the text at the same time.
Listen to the new article without reading the text.

Writing
Answer the question under the new article and write your answer in the comments.