The day of the first atomic bomb explosion – level 1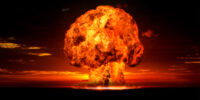 16-07-1945
On July 16, 1945, the United States does the first successful test of an atomic bomb. It happens in New Mexico.
The atomic bomb is a top-secret project. The United States wants to be the first country which makes an atomic bomb.
The explosion of the bomb makes a big cloud. The cloud looks like a mushroom. The cloud is 12 km high. People can feel the power of the explosion 160 km away.
Three weeks after the successful test, the United States uses an atomic bomb against Japan.
Difficult words: top-secret (extremely secret), explosion (a moment when an object quickly changes into many small pieces).
What would be the long-term effect of the atomic bomb on the US-Japan relationship?
LEARN 3000 WORDS with DAYS IN LEVELS
Days in Levels is designed to teach you 3000 words in English. Please follow the instructions
below.
How to improve your English with Days in Levels: 

Test
Do the test at Test Languages.
Go to your level. Go to Level 1 if you know 1-1000 words. Go to Level 2 if you know 1000-2000 words. Go to Level 3 if you know 2000-3000 words.

Reading
Read two new articles article at Days in Levels every day.
Read one previous article too and check if you remember all new words.

Listening
Listen to the new article and read the text at the same time.
Listen to the new article without reading the text.

Writing
Answer the question under the new article and write your answer in the comments.