The day of the Battle of Los Angeles – level 1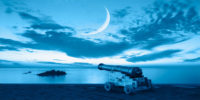 24-02-1942
In 1942, there is a war between Japan and the United States. The Japanese army is strong. The Japanese army controls more and more places in the Pacific Ocean.
On February 23, 1942, a Japanese submarine attacks American factories near Los Angeles. People in Los Angeles are scared. They think that the Japanese can attack Los Angeles, too.
The next night, on February 24, 1942, US radars see an object. The object is coming to Los Angeles from the west. The object can be a Japanese plane. The Americans switch off the lights in the city. They are preparing for the attack.
At 3 o'clock in the morning, the American soldiers see something in the air. They start to shoot. They are shooting at something in the air for one hour.
When they stop, they don't see any destroyed planes on the ground. It is a mystery.
The next morning, people in Los Angeles ask for an explanation. But the government isn't able to give a clear explanation.
Then, people see a photograph in the newspapers. When people see the photograph, they have a clear explanation. It wasn't a plane. It was a UFO.
Difficult words: submarine (a ship underwater), radar (a machine which shows planes in the air), switch off (to stop light from a lamp), destroyed (very broken), mystery (a situation which people can't understand), explanation (information why something happens), government (leaders of a country), was (the past form of "is").
What was the mystery that the American soldiers were shooting at for one hour?
LEARN 3000 WORDS with DAYS IN LEVELS
Days in Levels is designed to teach you 3000 words in English. Please follow the instructions
below.
How to improve your English with Days in Levels: 

Test
Do the test at Test Languages.
Go to your level. Go to Level 1 if you know 1-1000 words. Go to Level 2 if you know 1000-2000 words. Go to Level 3 if you know 2000-3000 words.

Reading
Read two new articles article at Days in Levels every day.
Read one previous article too and check if you remember all new words.

Listening
Listen to the new article and read the text at the same time.
Listen to the new article without reading the text.

Writing
Answer the question under the new article and write your answer in the comments.