The day Mathias Rust landed in Moscow – level 3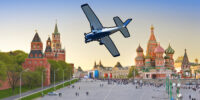 28-05-1987
In the 1980s, the world was still divided into the East and the West, and the Cold War was in progress.
In 1986, a meeting between Ronald Reagan and Mikhail Gorbachev took place in Iceland. It seemed that better times could come after this meeting. However, both politicians didn't agree on anything important.
18-year-old Mathias Rust from West Germany didn't understand that and he decided to do something about it. He wanted to create an "imaginary bridge" between the East and the West.
The following year, Mathias waited for nice spring weather. He told his parents that he was going on a 2-week trip around Scandinavia. Then he rented a single-engine plane at an airport near Hamburg.
On May 13, 1987, he set out on the first part of the journey. He flew to Iceland, then to Norway, and finally to Finland. There he stayed in a hotel, refueled, and prepared for the last part of his journey – a flight to Moscow.
He was going to fly through one of the most guarded airspaces on the planet without permission. The fighter planes could shoot him down at any moment. For the first hour, he flew over the Soviet Union unnoticed. Then a fighter plane was sent to him, but it flew away after a few minutes. The fighter planes flew to him twice more, but each time they flew away again. Why they never tried to stop him remains a mystery.
On May 28, 1987, in the late afternoon, Mathias came to Moscow and began circling over Red Square. People couldn't believe their eyes. The plane had a West German flag painted on its side. The plane seemed to be trying to land. In the end, Mathias was able to land.
He was arrested and sentenced to 4 years in prison. After 14 months, however, he was released and sent back to West Germany.
Difficult words: set out (to start), refuel (to fill with fuel before continuing), permission (when you can do something), unnoticed (not seen), remain (to stay), sentence (to send to prison).
What do you think would have happened if Mathias Rust's plan had been successful and he had been able to start a dialogue between the East and the West?
LEARN 3000 WORDS with DAYS IN LEVELS
Days in Levels is designed to teach you 3000 words in English. Please follow the instructions
below.
How to improve your English with Days in Levels: 

Test
Do the test at Test Languages.
Go to your level. Go to Level 1 if you know 1-1000 words. Go to Level 2 if you know 1000-2000 words. Go to Level 3 if you know 2000-3000 words.

Reading
Read two new articles article at Days in Levels every day.
Read one previous article too and check if you remember all new words.

Listening
Listen to the new article and read the text at the same time.
Listen to the new article without reading the text.

Writing
Answer the question under the new article and write your answer in the comments.