The day Machu Picchu was discovered – level 1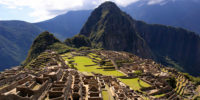 24-07-1911
In 1450, the Incas build a town high in the Andes, in Peru. The town is 2400 meters above the sea. 750 people live there. 100 years later, the people go away from the town. The town is empty for many years.
In 1911, the American traveler Hiram Bingham visits Peru. A farmer tells him about an old town high in the mountains.
The next day, on July 24, 1911, the farmer takes Bingham high into the mountains.
At the end of a long journey, Bingham sees the old town. The town is Machu Picchu.
Difficult words: Incas (people who live in Peru 500 years ago), above (over), empty (not full) journey (a long way).
What do you think prompted the Incas to build a town so high in the Andes?
LEARN 3000 WORDS with DAYS IN LEVELS
Days in Levels is designed to teach you 3000 words in English. Please follow the instructions
below.
How to improve your English with Days in Levels: 

Test
Do the test at Test Languages.
Go to your level. Go to Level 1 if you know 1-1000 words. Go to Level 2 if you know 1000-2000 words. Go to Level 3 if you know 2000-3000 words.

Reading
Read two new articles article at Days in Levels every day.
Read one previous article too and check if you remember all new words.

Listening
Listen to the new article and read the text at the same time.
Listen to the new article without reading the text.

Writing
Answer the question under the new article and write your answer in the comments.