The day jeans were patented – level 2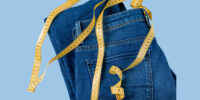 20-05-1873
Levi Strauss was a German immigrant who came to the United States in 1847.
In 1853, Strauss traveled to San Francisco, where he opened his business with fabric.
In 1872, Strauss received a letter from a tailor named Jacob Davis. Davis invented a new method to keep trousers together in parts where they usually ripped during heavy work. Davis was looking for a business partner to help him patent the idea.
Strauss and Davis got the patent for their invention on May 20, 1873.
The first jeans produced by Strauss and Davis were made from denim, which is a strong cotton fabric.
Jeans quickly became popular among miners and cowboys who needed strong trousers for their work.
Over time, jeans became a symbol of American culture and were worn by people of all ages and social classes.
Difficult words: fabric (material for making clothes), tailor (a person who makes men's clothes), invent (to have a new idea for something), miner (a person who works under the ground and brings up coal, diamonds, or gold).
What role did Levi Strauss' German heritage play in the success of his business?
LEARN 3000 WORDS with DAYS IN LEVELS
Days in Levels is designed to teach you 3000 words in English. Please follow the instructions
below.
How to improve your English with Days in Levels: 

Test
Do the test at Test Languages.
Go to your level. Go to Level 1 if you know 1-1000 words. Go to Level 2 if you know 1000-2000 words. Go to Level 3 if you know 2000-3000 words.

Reading
Read two new articles article at Days in Levels every day.
Read one previous article too and check if you remember all new words.

Listening
Listen to the new article and read the text at the same time.
Listen to the new article without reading the text.

Writing
Answer the question under the new article and write your answer in the comments.