The day Alcatraz was closed – level 3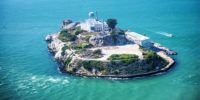 21-03-1963
In 1934, Alcatraz prison was opened in the United States. It was located on a rocky island in the middle of San Francisco Bay. Not only the most serious criminals but also prisoners who often tried to escape were brought here from all over the USA.
The biggest obstacle to escape was the location of the prison. Although the island was only 2 kilometers from the coast, the water was very cold and there were strong sea currents.
During Alcatraz's operation, there were 14 escape attempts involving 36 men. Almost all the attempts were well documented, and all resulted in the capture of the prisoners or their deaths. Only one attempt had an unknown result. Three men escaped using a special boat made of raincoats, and they have never been caught.
After 29 years, the prison was closed on March 21, 1963, due to high operating costs. Eventually, the prison became a museum.
Difficult words: bay (a part of the sea with the land on three sides), obstacle (a barrier), current (a flow of water), capture (when you catch a prisoner who ran away), raincoat (a coat which protects you from rain), due to (because of).
What was the biggest obstacle to escape from Alcatraz prison?
LEARN 3000 WORDS with DAYS IN LEVELS
Days in Levels is designed to teach you 3000 words in English. Please follow the instructions
below.
How to improve your English with Days in Levels: 

Test
Do the test at Test Languages.
Go to your level. Go to Level 1 if you know 1-1000 words. Go to Level 2 if you know 1000-2000 words. Go to Level 3 if you know 2000-3000 words.

Reading
Read two new articles article at Days in Levels every day.
Read one previous article too and check if you remember all new words.

Listening
Listen to the new article and read the text at the same time.
Listen to the new article without reading the text.

Writing
Answer the question under the new article and write your answer in the comments.