The day Adolf Hitler died – level 3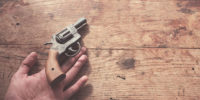 30-04-1945
Since Germany lost the crucial battle at Stalingrad in 1943, Adolf Hitler was a different man. He was close to a nervous breakdown, and he suffered from constant shaking in his left hand. After an assassination attempt on July 20, 1944, he became a complete wreck. He had difficulty moving and couldn't keep his balance.
In January 1945, Hitler moved to his underground bunker in Berlin. Only some of the most loyal people remained with the leader.
When World War II was coming to an end, Hitler was still in his bunker. He had his cyanide capsules ready. Then he wrote his last will.
On April 30, 1945, he prepared a revolver and the poison. After lunch, he and his wife said goodbye to their loved ones and went to their room. Then people heard a shot. They found Hitler with his head shot. His wife died of poisoning. Then, their bodies were burned.
Difficult words: crucial (extremely important), nervous breakdown (a moment when you can't function normally because you are worried and tired), assassination (the act of murdering an important person), wreck (somebody who is very nervous, tired, or unhealthy), cyanide (a very strong poison), will (a document that says what will happen with your money or things you own after you die).
What do you think about this day?
LEARN 3000 WORDS with DAYS IN LEVELS
Days in Levels is designed to teach you 3000 words in English. Please follow the instructions
below.
How to improve your English with Days in Levels: 

Test
Do the test at Test Languages.
Go to your level. Go to Level 1 if you know 1-1000 words. Go to Level 2 if you know 1000-2000 words. Go to Level 3 if you know 2000-3000 words.

Reading
Read two new articles article at Days in Levels every day.
Read one previous article too and check if you remember all new words.

Listening
Listen to the new article and read the text at the same time.
Listen to the new article without reading the text.

Writing
Answer the question under the new article and write your answer in the comments.