The day a computer beat the best chess player – level 2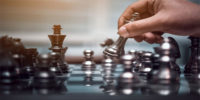 11-05-1997
In 1996, IBM built a very strong computer. They asked the world champion, Garry Kasparov, to play chess against their computer. IBM invested a lot of money to create this computer. They worked with the best chess players. They paid great programmers.
The first match between Kasparov and the computer started on February 10, 1996, in Philadelphia. They agreed to play six games. The computer won only one game and lost the match.
A year later, in May 1997, the second match started. IBM improved their computer during the year.
They agreed to play six games again. Before the sixth game, the score was the same. The sixth game was played on May 11 and the computer won. It won the whole match.
It was a big success for IBM. After the victory, IBM's sales went up.
Difficult words: IBM (a technology company), chess (a board game), improve (to make better), score (the result of a match), sales (the total number of sold products).
What marketing strategies did IBM use to ensure the success of their computer after defeating Garry Kasparov?
LEARN 3000 WORDS with DAYS IN LEVELS
Days in Levels is designed to teach you 3000 words in English. Please follow the instructions
below.
How to improve your English with Days in Levels: 

Test
Do the test at Test Languages.
Go to your level. Go to Level 1 if you know 1-1000 words. Go to Level 2 if you know 1000-2000 words. Go to Level 3 if you know 2000-3000 words.

Reading
Read two new articles article at Days in Levels every day.
Read one previous article too and check if you remember all new words.

Listening
Listen to the new article and read the text at the same time.
Listen to the new article without reading the text.

Writing
Answer the question under the new article and write your answer in the comments.