The day the first man climbed all mountains over 8000 meters – level 1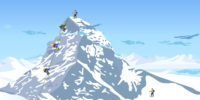 16-10-1986
The mountains in the Himalayas are very high. Some mountains are over 8000 meters high.
Edmund Hillary is the first man who climbs Mount Everest in 1953. It is a very special moment. It is very difficult to climb so high.
There are other people who want to do something special in the Himalayas, too. Something very special happens in 1986.
On October 16, world newspapers write that Reinhold Messner from Italy goes to the top of Lhotse. Lhotse is the world's fourth highest mountain in the world.
There are 14 mountains higher than 8,000 meters. Reinhold Messner climbs all of them. Lhotse is the last mountain which he needs to climb. Now, his job is finished. He is the best climber in the world.
It takes him 16 years to go to the tops of all 14 mountains.
Messner's first and most tragic mountain is Nanga Parbat. He goes to the top together with his younger brother Gunther. When they go down from the top, the weather is very bad. The brothers separate. Messner comes down after 6 days. He is extremely tired. He is very frozen. Seven of his toes must be amputated. His brother Gunther dies.
Difficult words: climb (to go to the top of a mountain), frozen (so cold that water is hard like a stone), toes (the fingers on your feet), amputated (cut by a doctor).
What inspired Reinhold Messner to attempt to climb all 14 of the 8,000 meters or higher mountains?
LEARN 3000 WORDS with DAYS IN LEVELS
Days in Levels is designed to teach you 3000 words in English. Please follow the instructions
below.
How to improve your English with Days in Levels: 

Test
Do the test at Test Languages.
Go to your level. Go to Level 1 if you know 1-1000 words. Go to Level 2 if you know 1000-2000 words. Go to Level 3 if you know 2000-3000 words.

Reading
Read two new articles article at Days in Levels every day.
Read one previous article too and check if you remember all new words.

Listening
Listen to the new article and read the text at the same time.
Listen to the new article without reading the text.

Writing
Answer the question under the new article and write your answer in the comments.