The day young football players became trapped in a cave – level 2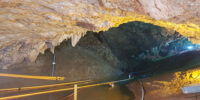 23-06-2018
On June 23, 2018, 12 young football players and their coach became trapped in a cave in Thailand because a flood blocked the entrance to the cave.
A rescue operation began soon after, but it took nine days for rescuers to find the group because they were deep in the cave and it was difficult to reach them.
The rescue operation took 18 days. Hundreds of rescuers from all around the world came to help.
The rescue was difficult and dangerous because divers had to go through narrow, flooded parts of the cave. They had to bring the boys out one by one.
The boys and their coach were successfully rescued, and they all survived.
Difficult words: flood (water which is much higher than normal), entrance (a point where you enter something), rescue (a moment when something is saved).
What strategies do you think were essential in ensuring a successful and safe rescue of the boys and their coach?
LEARN 3000 WORDS with DAYS IN LEVELS
Days in Levels is designed to teach you 3000 words in English. Please follow the instructions
below.
How to improve your English with Days in Levels: 

Test
Do the test at Test Languages.
Go to your level. Go to Level 1 if you know 1-1000 words. Go to Level 2 if you know 1000-2000 words. Go to Level 3 if you know 2000-3000 words.

Reading
Read two new articles article at Days in Levels every day.
Read one previous article too and check if you remember all new words.

Listening
Listen to the new article and read the text at the same time.
Listen to the new article without reading the text.

Writing
Answer the question under the new article and write your answer in the comments.