The day young football players became trapped in a cave – level 1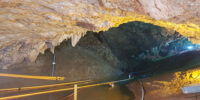 23-06-2018
It is June 23, 2018. 12 young football players and their coach go inside a cave in Thailand. A strong rain comes. Water from the rain blocks the entrance to the cave. The boys can't go out of the cave.
Many people come to the cave. They want to find the boys in the cave, but it is very difficult to find them because the way to the boys is narrow and under water.
After nine days, people find the boys deep in the cave. Now, they must get the boys out of the cave. It is difficult and dangerous.
After 9 more days, the boys and their coach are out of the cave. They all survive.
Difficult words: entrance (a point where you enter something), narrow (not wide).
What strategies were used by the rescuers to get the boys out of the cave safely?
LEARN 3000 WORDS with DAYS IN LEVELS
Days in Levels is designed to teach you 3000 words in English. Please follow the instructions
below.
How to improve your English with Days in Levels: 

Test
Do the test at Test Languages.
Go to your level. Go to Level 1 if you know 1-1000 words. Go to Level 2 if you know 1000-2000 words. Go to Level 3 if you know 2000-3000 words.

Reading
Read two new articles article at Days in Levels every day.
Read one previous article too and check if you remember all new words.

Listening
Listen to the new article and read the text at the same time.
Listen to the new article without reading the text.

Writing
Answer the question under the new article and write your answer in the comments.