The day World War II ended in Europe – level 3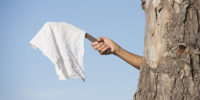 08-05-1945
Before his death, Hitler wrote his last will. He decided that Karl Dönitz would be his successor.
On May 2, 1945, Dönitz sent a radio message to all Germans. He told them that the leader was dead. The Germans were shocked. Hitler, who promised a thousand-year empire and categorically refused to surrender at the end of the war, finally gave up himself.
Meanwhile, the Red Army broke into Berlin and gained control over it.
Some Germans still wanted to fight, but Dönitz knew that the war was over and surrender was inevitable. He had one main goal. He wanted German soldiers to surrender to the Americans, not the Red Army. He believed that they would be treated better by the Americans than by the Russians. This plan was quite successful, and 1.8 million German soldiers escaped Soviet capture.
The surrender of Germany was finally signed on May 8, 1945. The worst war in human history ended.
Difficult words: will (a document which says what will happen after you die), successor (a person who takes a job after somebody who left), surrender (to stop fighting because you can't win), inevitable (impossible to avoid), capture (when you catch somebody).
What was Karl Dönitz's main motivation for wanting German soldiers to surrender to the Americans rather than the Red Army?
LEARN 3000 WORDS with DAYS IN LEVELS
Days in Levels is designed to teach you 3000 words in English. Please follow the instructions
below.
How to improve your English with Days in Levels: 

Test
Do the test at Test Languages.
Go to your level. Go to Level 1 if you know 1-1000 words. Go to Level 2 if you know 1000-2000 words. Go to Level 3 if you know 2000-3000 words.

Reading
Read two new articles article at Days in Levels every day.
Read one previous article too and check if you remember all new words.

Listening
Listen to the new article and read the text at the same time.
Listen to the new article without reading the text.

Writing
Answer the question under the new article and write your answer in the comments.