The day World War II ended in Europe – level 1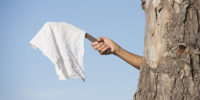 08-05-1945
Hitler dies on April 30, 1945. After he dies, Karl Dönitz is the new leader.
On May 2, Dönitz sends a radio message to all Germans. He tells them that the leader is dead. The Germans are shocked. They can't believe that Hitler left them.
At that time, the Red Army is already in Berlin. Some Germans still want to fight. Dönitz knows that the war is finished. He knows that Germany has to surrender.
The capitulation of Germany happens on May 8, 1945. The worst war in history ends.
Difficult words: left (the past form of "leave"), surrender (to stop the fight because you can't win), capitulation (a moment when you leave the fight because you can't win), worst (when nothing else is so bad).
What was the reaction of the German people when they heard of Hitler's death?
LEARN 3000 WORDS with DAYS IN LEVELS
Days in Levels is designed to teach you 3000 words in English. Please follow the instructions
below.
How to improve your English with Days in Levels: 

Test
Do the test at Test Languages.
Go to your level. Go to Level 1 if you know 1-1000 words. Go to Level 2 if you know 1000-2000 words. Go to Level 3 if you know 2000-3000 words.

Reading
Read two new articles article at Days in Levels every day.
Read one previous article too and check if you remember all new words.

Listening
Listen to the new article and read the text at the same time.
Listen to the new article without reading the text.

Writing
Answer the question under the new article and write your answer in the comments.