The day World War II began – level 3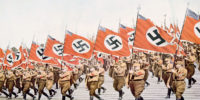 01-09-1939
In the 1930s, the Nazi regime wanted to create the Greater German Empire that would unite all territories where the German-speaking population lived. Unsurprisingly, Austria was the first country on Hitler's mind, and after a coup planned by Hitler's men, the Austrian Nazis came to power.
Since 1936, Britain and France watched Hitler's rise in Europe. However, they did nothing to stop him.
In September 1938, Britain and France were convinced by Germany and Italy to agree that Czechoslovakia would give a part of its territory to the German Empire. These were the Sudetenland, which was a Czechoslovak territory with a predominant German population. As a result, the Protectorate of Bohemia and Moravia was established.
Poland became the next Hitler's target. Hitler and the Soviet leader Stalin agreed on the division of Poland, and on September 1, 1939, Germany invaded Poland.
The worst war in history broke out, lasting almost six years, and killing tens of millions of people.
Difficult words: regime (a system of government), coup (the situation when a group of people take power over a country), predominant (more common or powerful)
What was the primary motivation for Britain and France to agree in the 1938 Munich Agreement on the transfer of the Sudetenland to the German Empire?
LEARN 3000 WORDS with DAYS IN LEVELS
Days in Levels is designed to teach you 3000 words in English. Please follow the instructions
below.
How to improve your English with Days in Levels: 

Test
Do the test at Test Languages.
Go to your level. Go to Level 1 if you know 1-1000 words. Go to Level 2 if you know 1000-2000 words. Go to Level 3 if you know 2000-3000 words.

Reading
Read two new articles article at Days in Levels every day.
Read one previous article too and check if you remember all new words.

Listening
Listen to the new article and read the text at the same time.
Listen to the new article without reading the text.

Writing
Answer the question under the new article and write your answer in the comments.