The day when the Bismarck battleship sank – level 3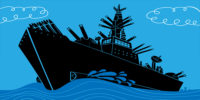 27-05-1941
Bismarck was one of the two largest battleships ever built by Germany. It was laid down in Hamburg in 1939 with Adolf Hitler making the christening speech.
Bismarck's task was to break into the Atlantic Ocean along with the heavy cruiser Prinz Eugen in May 1941. The two ships were supposed to raid shipping from North America to Great Britain. However, the ships were detected off Scandinavia and British ships were deployed to block their route. The battle cruiser Hood was ordered, along with other bombers, to attack the Germans.
Fire opened early in the morning of May 24, 1941, and both German ships concentrated their fire on Hood. One of the shells reached Hood's rear ammunition magazine and a massive explosion broke the back of the ship. Hood disappeared underwater, taking all but three of its crew of 1,419 men with it.
The British prime minister Winston Churchill ordered all warships in the area to join the pursuit of Bismarck. Eventually, the ship was struck by two torpedoes and suffered serious damage. On May 27, 1941, the ship commander allowed the crew to abandon and scuttle the ship. Bismarck slowly flooded and it disappeared beneath the surface at 10:40.
Difficult words: ammunition magazine (a place where shells or other explosive material are stored), pursuit (following something), torpedo (a missile that is fired from a ship or dropped into the water from a plane and it explodes when it reaches its target), scuttle (to sink by making holes through the bottom).
What factors allowed the German ships to escape detection until the morning of May 24, 1941?
LEARN 3000 WORDS with DAYS IN LEVELS
Days in Levels is designed to teach you 3000 words in English. Please follow the instructions
below.
How to improve your English with Days in Levels: 

Test
Do the test at Test Languages.
Go to your level. Go to Level 1 if you know 1-1000 words. Go to Level 2 if you know 1000-2000 words. Go to Level 3 if you know 2000-3000 words.

Reading
Read two new articles article at Days in Levels every day.
Read one previous article too and check if you remember all new words.

Listening
Listen to the new article and read the text at the same time.
Listen to the new article without reading the text.

Writing
Answer the question under the new article and write your answer in the comments.