The day when the Bismarck battleship sank – level 1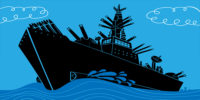 27-05-1941
Bismarck is one of the biggest German battleships. Germany builds the ship in 1939. Germany is very proud of the ship. Bismarck sails from Hamburg. The Nazi leader Adolf Hitler is in Hamburg, too.
Bismarck and another ship, Prinz Eugen, sail in the Atlantic Ocean. They stop ships that bring things to Britain.
British ships see Bismarck and Prinz Eugen. The British prime minister is Winston Churchill. He says that all British ships must attack the two German ships.
The attack starts on May 24, 1941. The German ships want to attack one British ship called Hood. They do it. Hood sinks into the ocean.
On May 27, 1941, British ships attack Bismarck. The Bismarck crew leaves. Bismarck sinks into the ocean.
Difficult words: battleship (a large ship with guns), proud (when somebody feels good about something that he does), crew (people who work on a ship or plane), futuristic (something very modern and unusual).
What motivates Winston Churchill to order the British ships to attack Bismarck and Prinz Eugen?
LEARN 3000 WORDS with DAYS IN LEVELS
Days in Levels is designed to teach you 3000 words in English. Please follow the instructions
below.
How to improve your English with Days in Levels: 

Test
Do the test at Test Languages.
Go to your level. Go to Level 1 if you know 1-1000 words. Go to Level 2 if you know 1000-2000 words. Go to Level 3 if you know 2000-3000 words.

Reading
Read two new articles article at Days in Levels every day.
Read one previous article too and check if you remember all new words.

Listening
Listen to the new article and read the text at the same time.
Listen to the new article without reading the text.

Writing
Answer the question under the new article and write your answer in the comments.