The day Usain Bolt set a new world record – level 2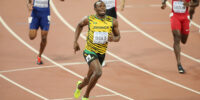 16-08-2009
On August 16, 2009, Usain Bolt of Jamaica set a new world record in the 100 meters in Berlin, Germany.
Bolt was competing against some of the fastest sprinters in the world, but he was still the favorite to win the race.
Bolt didn't have the best start, but he was already leading at the 30-meter mark. In the middle of the race, he was already about 1 meter ahead of the other sprinters.
When Bolt crossed the finish line, the scoreboard showed the incredible time of 9.58 seconds. It was a new world record. Bolt's time was 0.11 seconds faster than his previous world record, which he set at the Olympics in China.
Difficult words: set (to create), compete (to try to be better in a competition), scoreboard (a board which shows the score), previous (when we speak about something which happened before).
What strategies do you believe Usain Bolt employed in order to set the new world record?
LEARN 3000 WORDS with DAYS IN LEVELS
Days in Levels is designed to teach you 3000 words in English. Please follow the instructions
below.
How to improve your English with Days in Levels: 

Test
Do the test at Test Languages.
Go to your level. Go to Level 1 if you know 1-1000 words. Go to Level 2 if you know 1000-2000 words. Go to Level 3 if you know 2000-3000 words.

Reading
Read two new articles article at Days in Levels every day.
Read one previous article too and check if you remember all new words.

Listening
Listen to the new article and read the text at the same time.
Listen to the new article without reading the text.

Writing
Answer the question under the new article and write your answer in the comments.