The day Usain Bolt set a new world record – level 1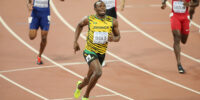 16-08-2009
On August 16, 2009, Usain Bolt makes a new world record in the 100 meters. It is in Berlin, Germany.
Bolt is running against the fastest sprinters in the world, but he is the favorite.
Bolt doesn't have the best start, but soon he is the leader in the race.
In the middle of the race, he is already about 1 meter before the other sprinters.
When Bolt crosses the finish line, the time is 9.58 seconds. It is a new world record. Bolt's time is 0.11 seconds faster than the record before.
Difficult words: sprinter (a person who runs very fast), race (when somebody tries to be faster than the other people).
What techniques do you think Usain Bolt used to help him reach such an impressive feat?
LEARN 3000 WORDS with DAYS IN LEVELS
Days in Levels is designed to teach you 3000 words in English. Please follow the instructions
below.
How to improve your English with Days in Levels: 

Test
Do the test at Test Languages.
Go to your level. Go to Level 1 if you know 1-1000 words. Go to Level 2 if you know 1000-2000 words. Go to Level 3 if you know 2000-3000 words.

Reading
Read two new articles article at Days in Levels every day.
Read one previous article too and check if you remember all new words.

Listening
Listen to the new article and read the text at the same time.
Listen to the new article without reading the text.

Writing
Answer the question under the new article and write your answer in the comments.