The day the world saw the first cloned sheep – level 1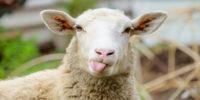 22-02-1997
Dolly is a sheep. She is born on July 5, 1996. She isn't a normal sheep. She is special. This is because she is an exact copy of another sheep.
Scientists in Scotland make Dolly. They use a special method. This method is new. This method is very difficult. The scientists make many attempts. 276 attempts aren't successful, but attempt 277 is successful. A healthy sheep is born.
The scientists help Dolly to grow. But they don't speak about her. They wait for half a year.
Then, On February 22, 1997, journalists come to Scotland. The scientists tell them about Dolly. It is a very important moment in history.
Difficult words: attempt (a moment when you try to do something), successful (very good), grow (to be bigger).
What was the hard process that led to the creation of Dolly the sheep?
LEARN 3000 WORDS with DAYS IN LEVELS
Days in Levels is designed to teach you 3000 words in English. Please follow the instructions
below.
How to improve your English with Days in Levels: 

Test
Do the test at Test Languages.
Go to your level. Go to Level 1 if you know 1-1000 words. Go to Level 2 if you know 1000-2000 words. Go to Level 3 if you know 2000-3000 words.

Reading
Read two new articles article at Days in Levels every day.
Read one previous article too and check if you remember all new words.

Listening
Listen to the new article and read the text at the same time.
Listen to the new article without reading the text.

Writing
Answer the question under the new article and write your answer in the comments.